Mazda Takata Airbag Recall
Mazda Takata Airbag Recall


Your safety is our number one concern
Your Mazda has been affected by our recent safety related recall program. Certain components in the airbag system require replacement and we need you to contact your local Dealer to get this done as soon as possible.
Contact us on 1800 931 024 to find out more or locate your nearest Dealer to book in a replacement.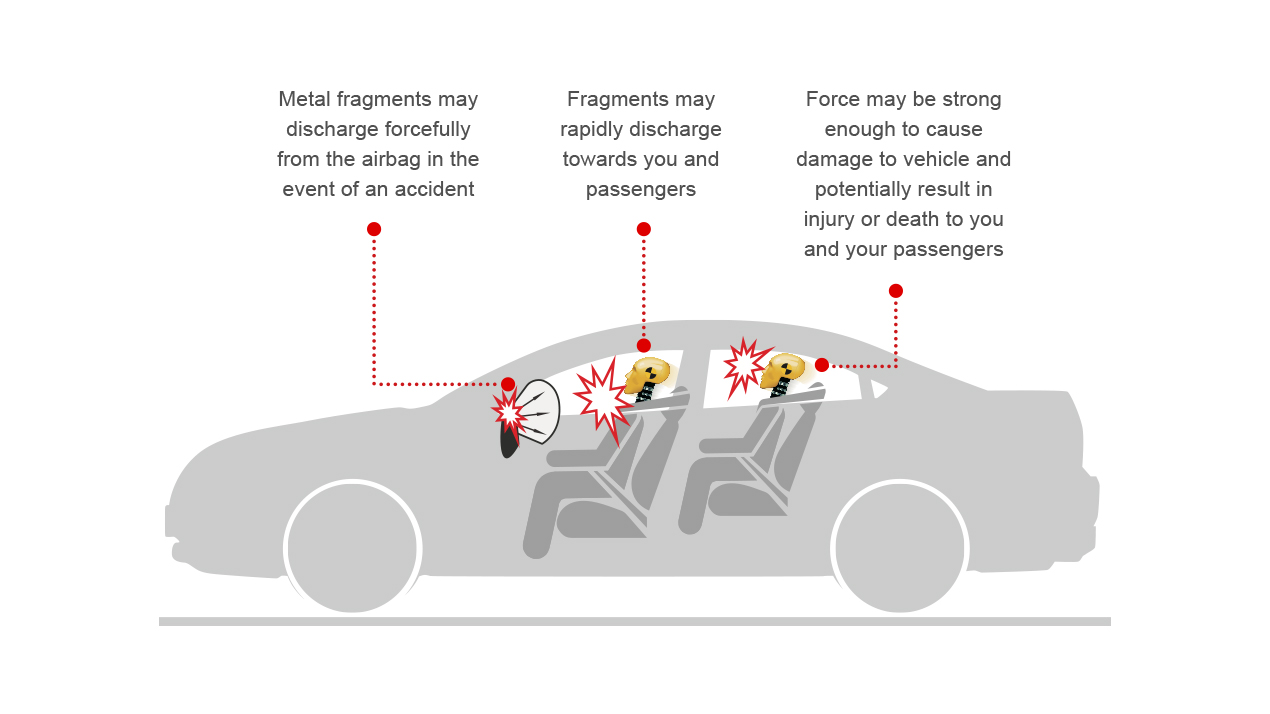 Details changed? Update them now to ensure you're receiving the latest information.


Update your details
Accommodating your repair
All repairs are FREE of charge and take less than one hour to complete.
Due to the urgent nature of the repair, vehicles equipped with an 'Alpha' type airbag inflator are given priority booking status in order to expedite repairs. Vehicles equipped with 'Beta' type airbag inflators will have their service completed as soon as possible and owners are encouraged to make a service booking immediately.
We understand that each owner's circumstances are different and due to the importance and urgent nature of this recall Mazda can accommodate the provision of loan vehicles, towing services and remote repairs on a case by case basis. Please discuss your individual requirements and circumstances with your preferred servicing Dealer when you make a booking.
FREQUENTLY ASKED QUESTIONS

What is a vehicle recall?

A vehicle recall occurs when Mazda Australia determines that one of our models has a safety-related defect or does not comply with a federal safety standard.
What is the reason for this recall?

The recall has been launched as part of a global Takata airbag recall campaign involving multiple manufacturers. The airbag inflator/inflators may have been exposed to moisture absorption over time, causing degradation of the inflator propellant. In the event of a collision, the inflator may rupture and cause the airbag to deploy abnormally, increasing the risk of injury to the occupant.
How can I check if my car is affected?

If you want to check if your car is affected by the Takata Airbag Recall click here to check your Vehicle Identification Number. The Vehicle Identification Number (VIN) is a unique number that identifies your vehicle. Please refer to the Specifications section of your owner's manual for the exact location of this number.
Is my vehicle fitted with a Takata 'Alpha' airbag?

A small number of vehicles imported into Australia are fitted with Takata 'Alpha' airbags. Customers with vehicles fitted with Takata Alpha Airbags need to take immediate steps to have their airbags replaced Alpha bags may present a higher risk subset of the Takata bags being recalled.
It is critical that owners of cars with alpha airbags installed take immediate steps to have the airbags replaced because of the risk that injury or death could occur if the airbag misdeploys. All other customers whose vehicles are on the recall list are urged to arrange for the replacement of the Takata airbags in their vehicles as soon as possible due to the safety risks involved in the use of these vehicles.
Customers should call their local dealer to arrange a replacement airbag.
How will vehicles be rectified?

The inflator inside the airbag assembly will be replaced by an Authorised Mazda Dealer at no cost to the customer.
How will customers that purchased a second-hand vehicle be notified of this recall?

Mazda Australia gathers information from its own database and a national database from the Road Traffic Authorities around Australia. Second-hand vehicles are included in the notification process and the repairs are also completed free of charge for these owners.
What is the brand of the airbag that is being fitted to my vehicle?

The brand of replacement component depends on the vehicle model.
How will customers be notified if their vehicle is affected by an airbag recall?

Customers will be notified by Mazda Australia.
My Mazda was involved in an accident and had a replacement airbag installed by a smash repairer. How can I tell if the replacement airbag is an affected Takata airbag?

We encourage you to contact the business that replaced your airbag and ask what type of airbag was fitted into your vehicle and where it was purchased from. If the airbag was purchased from an Authorised Mazda Dealer, we will be able to identify if it requires replacement. Alternately, you can take your vehicle to any Authorised Mazda Dealer who can check the type of airbag inflator that is installed in your vehicle.
How do I find further information?
Download Recall Documents